"The Rise and Fall of Richie Myles"
Produktionsjahr: 2020 | Länge: 37:57 Minuten | Sprache: Deutsch (mit englischen Untertiteln)
Year of Production: 2020 | Length: 37:57 Minutes | Language: Deutsch (with English subtitles)
Eine Strassentauben Produktion.
Regie und Drehbuch: Linus Wirth
Die Triangel war immer ein weitläufig unterschätztes Instrument. Sie spielte immer nur die zweite Geige oder besser, sie spielte bloß die Triangel. Doch dann kam ein Mann und beinahe eigenhändig revolutionierte er die gesamte Musikwelt. Ein Mann verhalf dem Metallstab mit drei Ecken zu dem, was er heute ist: Rock'n'Roll. Aber Rock'n'Roll verändert einen Menschen. Und wie Ikarus flog er zu nah an der Sonne. Der Aufstieg und Fall eines Triangel-Solisten. Der Aufstieg und Fall des Richie Myles.
A Strassentauben Production.
Written and Directed by Linus Wirth
The triangle has always been a fairly underrated instrument. It never reached higher than second fiddle or more precise: It just reached triangle. Then came a hero we didn't know we deserve. A hero that single-handedly revolutionised the whole music industry – nay the world! A man responsible for what the triangled metal stick is today: rock'n'roll. But rock'n'roll changes you. The rise and fall of a triangle soloist. The Rise and Fall of Richie Myles.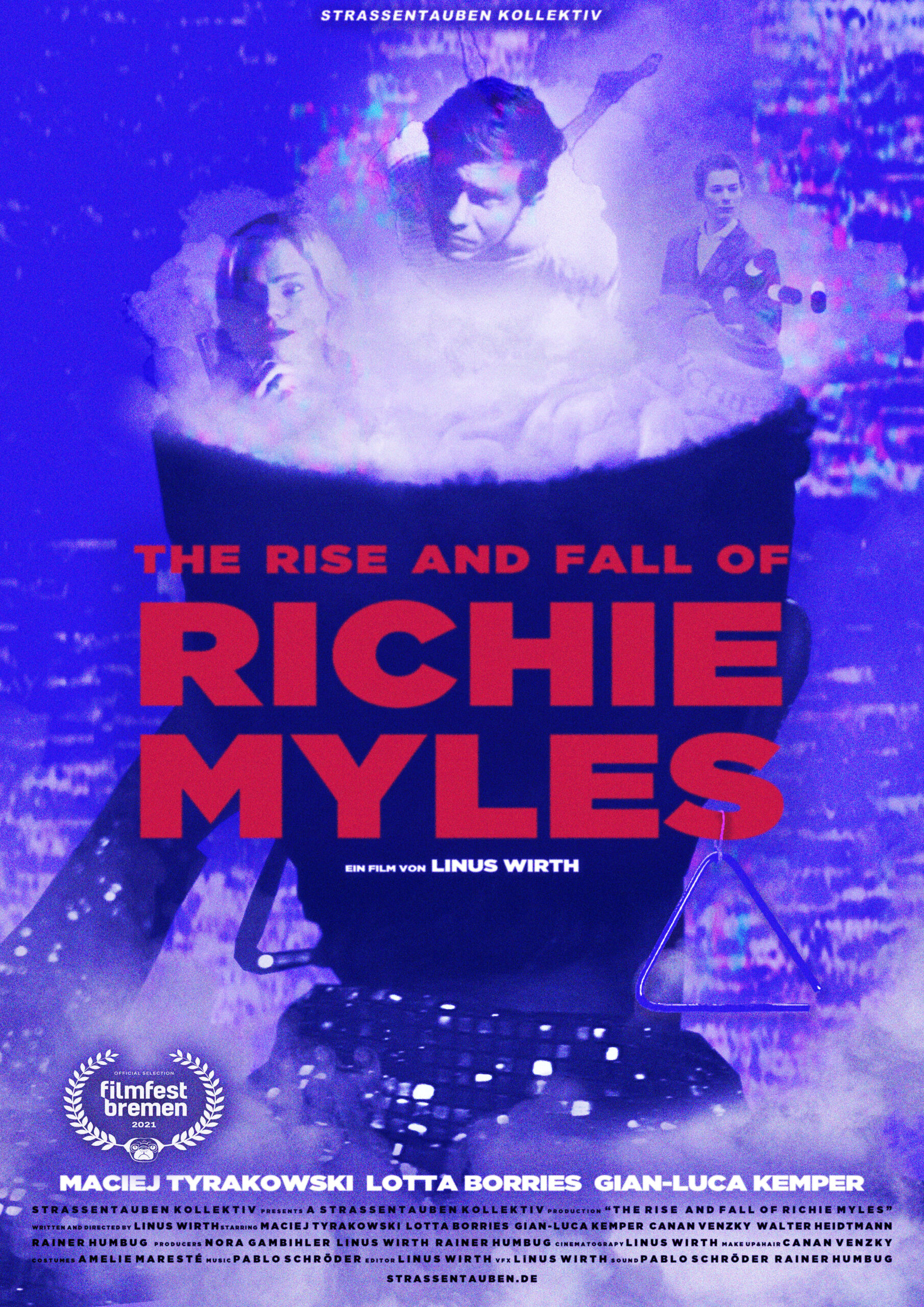 Written and Directed by
Linus Wirth

Producers
Nora Gambihler
Linus Wirth
Rainer Humbug

Make-Up & Hair
Canan Venzky
Costumes
Amelie Maresté
Cinematography
Linus Wirth
Music
Pablo Schröder

Editor
Linus Wirth
Richie Myles
Maciej Tyrakowski
Kurtney
Lotta Borries

Simon Van Cricket
Gian-Luca Kemper
Therapeutin
Canan Venzky
Yussuf
Walter Heidtmann
Zange
Rainer Humbug